Planescape: Dark Mirrors
Hexton
---
---
---
Hexton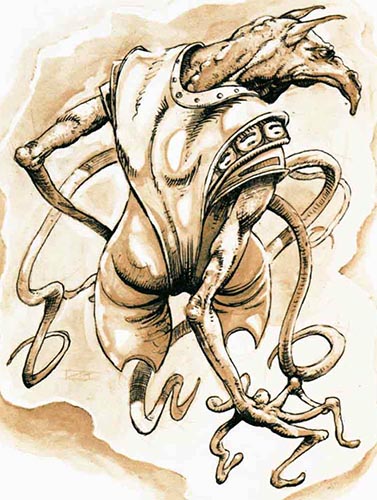 The hextons fulfill several roles in modron life. First, they are the generals of the 36 modron armies. Second, six are attached to each of the wheels of the realm, where they maintain the chain of command in modron life. Another six serve at the tower of Primus, although they are not aware of his existence. There are undoubtedly more hextons, although no one has ever logged all their posts.
Hextons appear as humanoids with six arms – two large human arms with six fingers and four tentacles tipped with sharp claws below. They have thin, fanlike folded wings, joined at the shoulders.
There is a 75% chance that any hexton will be accompanied by its personal guard: a staff of one septon, two octons, three nonatons, five decatons, and 25 pentadrones, all fanatic in their dedication to their orders.