Planescape: Dark Mirrors
Octon
---
---
---
Octon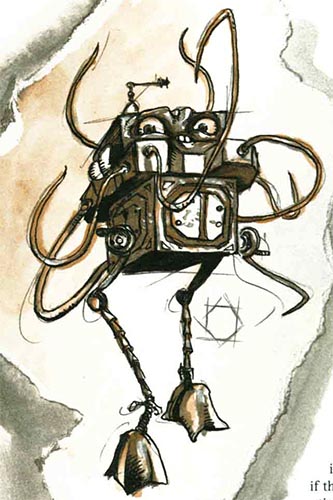 There are at least 64 octons, one in charge of each sector of the plane in the modron realm. These creatures govern the wheels and can command any armies stationed there. The lesser modrons of each cogwheel are considered wards of the octons, who guard their sectors quite rigidly and see that regulations are obeyed, routine is observed, and reports are invariably correct.
An octon moves through air and water by means of a circular collar at shoulder level which is part of the octon's body. It forces air or liquid through the collar, giving the creature lift, propulsion, and a high amount of maneuverability. Eight tentacle-arms are attached to the outside of this collar.
Each octon has a personal staff of one nonaton, who in turn commands one decaton, who controls five pentadrones, then 16 quadrones, 81 tridrones, 256 duodrones, and 1,728 monodrones through the chain of command. These forces maintain towers which are smaller versions of the towers of the quartons, the secundi, and Primus, although they do not understand who built those structures.